Vulva casting DIY kit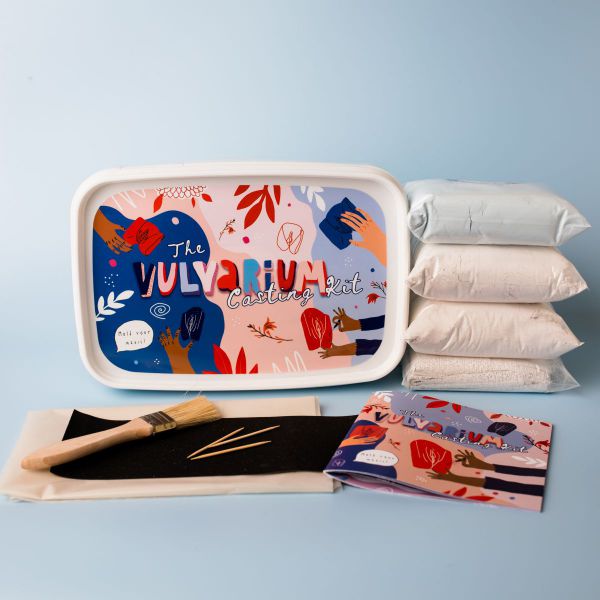 Vulva casting DIY kit
Mold your magic with the Vulvarium DIY Vulva Casting Kit – a hands-on experience to turn your vulva into a piece of art!
After months of plotting and perfecting, it is finally here – The Vulvarium Casting Kit! This DIY kit is the perfect addition to Vulvariums existing vulva casting tours, bringing the casting experience into the homes of even more people around the globe. Yes, it is true – you can now do vulva castings all by yourself in your own four walls!
And there is more – We decided to add enough materials for TWO vulva sculptures, meaning that you can either cast yourself in two different positions or share the fun and amazement with a beloved person of choice. You'll have so much fun, be prepared!
We spend a lot of time developing a detailed (and funky) step-by-step instructional leaflet that is included in the kit to ensure a smooth DIY experience. We have also added some great photos to guide you even better through the process of mixing the alginate, covering yourself in this funny liquid and afterward turning it all into a beautiful little sculpture by messing around with plaster.
Of course, all the tools and materials you need are provided in the DIY kit. Simply find yourself a weighing scale, a plastic bowl and some water to get started. Oh, and a mirror so that you can have a good look at what is going on there between your legs. I can't stop repeating how much fun you will have, aaaah!
For all of you extra crafty ones – Yes you can paint your sculpture and shape and cut it as much as you want afterwards. Feel free to share your results with me though, I might learn something from you soon-to-be vulva sculpting experts.
If you have any more questions, visit the FAQ section or pop me a message. And now off you go - mold your magic!

How many vulva sculptures can I make with the DIY kit?
The Vulvarium Casting Kit contains enough materials for two vulva casts. This means you can make two copies of your vulva in different positions, share the DIY kit with a friend or even experiment with other body parts (penis, boobs, etc.).
Do you offer worldwide shipping?
The DIY kit can be shipped worldwide. The shipping prices will be added automatically during checkout. Please note that you might have to pay an additional customs fee when you receive your package – this varies from country to country.
Is the casting product skin friendly?
The casting product is absolutely skin-friendly and usually used by dentists to copy teeth. This means that it is safe to use on your vulva, even if you have sensitive skin or are pregnant.
Is it difficult to cast myself?
Casting a vulva is a bit more complex than one might think at first, but since we've created a very detailed step-by-step instructional leaflet, the results from the DIY kit have so far been very good. We do however recommend that you ask someone to help you with the casting process - not only is it a lot easier, but it is also much more fun!
Will the result look like a Vulvarium vulva statue?
The materials used for the Vulvarium vulva statues are the same as the ones contained in the DIY kit, therefore the quality and skin details will be very similar. Your vulva sculpture will however have a different shape and depending on your unique work either lie, lean, or stand up. If you want to ensure maximum quality, please book a vulva casting session with Vulvarium.
Can I paint my vulva statue?
Once your vulva cast has fully dried, you can paint your sculpture however you like. Your local arts and crafts store will for sure be able to recommend you the necessary paint – simply ask what works best on plaster.
Will you offer a DIY kit in other languages?
For now, the DIY kit is available only in English. It will be translated in the future, but that will still take a bit of time.
Alginate
Plaster
Plaster Bandages
Plastic Sheet
Toothpicks
Sandpaper
Brush
Instructional leaflet
The Vulvarium Casting Kit contains enough materials for two vulva castings and sculptures.